Here at our Studio in The Old Smithy we frequently talk to Customers who think they can't possibly design their own stationery. "I'm not very good at the internet!", they tell us over our website live-chat service, without a hint of irony.
The simple, delightful truth however, is that it's so much easier than you might think.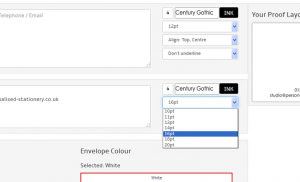 You'll have a picture in your head of how you want your stationery to look – we tend to call this your "fabulous".  You just need to take a little time to find and personalise the right template for you.
What really sets our design tool apart from the rest is flexiility. You can adjust the four essentials for each bit of your design: font, text size, text alignment and ink colour. This alone gives you incredible flexibility in terms of layout.
When you also add-in our unique library of exclusive motifs & glyphs – with the same flexibility in most cases – you can really start cooking on gas.  We also offer a wide range of special characters tjust to be sure you can use the font you really want.
Frankly, no other tool lets you do that, so rest assured you've made a good choice by coming to us!